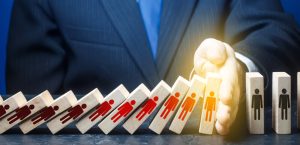 "The world which is an ever-changing changing place, a delicate platform where one is supposed to take risk else he may fail."
In the present-day scenario, everyone is facing some or other challenges essentially related to career growth. Mainly during this pandemic phase, people have been mentally disturbed due to the crunch of funds as well as lack of growth. I think many of my readers may also have incurred such situation. Isn't it? If it is so, then there may be many reasons which are overlooked by us. So let's know the reasons or our drawbacks which became a barrier in our career growth.
Lack of Guidance:
Many times it is observed that you have potential and are working consistently and also have successfully accomplished the work. Yet you are not geeting the desired hike or growth in your career. This states that you haven't made use of your latent capacity or you haven't applied your extraordinary abilities, vision, and gifts in a new way that makes a difference. Even though you may have accomplished it competently, still you didn't excel as you should. So, there is a need to identify and master some key skills to groom yourself and emerge as a successful person.
2. Peer-learning and Networking
We must understand that employees skills and knowledge are one of the leading assets to an organization and this should be leveraged.
Now, you imagine when you hire all the knowledgeable and competent employees and they interact daily with each other. What happens? Imagine the level of insights their peers could gain if this knowledge is shared. Thus, it is easy to learn new skills in a congenial environment.
We can trace some of the benefits of a successful peer to peer organization:
Promotes connectivity and collaboration– When as peers you interact with each other, you learn how to work together united as a unit. This inculcates a positive workplace culture of sharing.
Enables to boost up employee morale and well-being– As an employee when you help your colleagues then all of you learn and develop your skills which boosts self-confidence. This lends itself to an enhanced sense of belonging and connection.
However, after some time this exchange of knowledge within an organization saturates. So as to acquire brighter ideas and perspectives you have to expand your networking. This interaction with other expertise sharpens your critical thinking and widens your vision.
You can also follow many others on social media like LinkedIn or Twitter. Thus, such collaborative learning via networking not only helps you to connect with others but also develops your unique personality in your organization. Your connectivity enables you to nurture better prospects and get recommendations if required. Thus, this peer learning and networking empower not only your career growth but also that of your colleagues.
Eventually, peer organization is crucial for all due to various reasons, including:
Increases engagement
Improves retention & productivity
Helps to ensure new employees feel comfortable
Provides a safe space to ask questions
Reinforces employees' existing knowledge
3. Non- Understanding of Your Culture
Being a professional, often you happen to make the mistake of evaluating your work independently. You don't try to understand how the organization works, and the system around them judge and calculate value, and contribution.
So, you need to self-evaluate yourself as a professional and ask a few questions as
Do you know what your association considers as unrivaled commitment – precisely what attributes and practices are needed to push forward from your level to the following?
Is it accurate to say that you are supporting your boss' most noteworthy dreams, mission, and objectives? But, do you have any clear vision of your boss?
Have you accomplished more than the objectives of your job, and had a genuine effect in a greater manner? Provided that this is true, how?
Have you shown that you can lead and viably oversee regions past the thing you're dealing with now?
Do you get what your chief and senior authority considers to be basic to the achievement and development of the association, and would you say you are supporting those orders in significant ways?
4. Lacks in Taking Initiatives:
We are supposed to be proactive rather than waiting for the boss to assign the task. The boss will assign specific tasks as what he does. So you must volunteer to take on more tasks and responsibilities other than your current position. Further, you must focus on learning capacities that stand outside your primary knowledge area. Step out of your comfort zone and challenge yourself to improve.
5. Unable to Grab the Opportunity:
Apart from fortifying yourself with knowledge, you are supposed to be vigilant enough. You must seize the opportunity as soon as you find it. In this way, go out and assert what you need. After a while, you will acquire the spotlight and will be noticed by all. Eventually, you will inculcate self-confidence and will be prepared to take your vocation to a higher level since you accomplished a more elevated level of commitment.
6. Lagging in Soft Skills:
Having expertise but a lack of soft skills won't take you long in your career. Soft skills aid you to fit in a workplace and that includes motivation, personality, manners etc. So it is essential to focus more on expanding your knowledge, and enhancing your soft skills. You are supposed to read books, articles, listen to podcasts and upskill yourself. You have to stay updated with the new fads. This would encourage you to develop a different perspective and will be able to initiate to do something extraordinary. Thus, you will hit the target and get a hike in your career growth.
7. Negative Mindset:
Negative outlook towards any life situation tends to give negative outcomes as well. Whereas a positive attitude really enables you to boost up your career since you will take criticism or feedback in the form of a gift given to you to make you better. So one needs to change the negative outlook to become a wise person and this might be the reason that is giving you setbacks in your career.
Never be biased with a person or method of deliverance. Just listen to suggestions, glean them to move on. At this moment, don't ever mix your big dreams with your ego. Learn to listen 'No' also from your boss. And definitely, this quality of yours will facilitate you to achieve greater goals in life.
Besides, you have to be diplomatic in the Corporate world. It is the best tool to deal with people at the workplace be it politics or anything else. One should not offend his peers and colleagues by conveying rude behavior. Thus, every professional has to inculcate mature and rational behavior.
8. Demotivated:
It's a fact that the energy you give that only comes back to you. So if you remain demotivated then you will tend to attract demotivated people only. But if you are a positive person and motivated professional then you will surround yourself with motivated people. In a company you must keep your colleagues and subordinates motivated whenever they feel low.
Encourage them by understanding their needs and try to boost up their morale. As a team member if you do so you will not only be regarded by all but simultaneously you will develop your leadership quality. So, a graph of your escalates gives you a chance for a good appraisal.
9. Unable to Identify Strengths and Shortcomings-
Every facet of a coin has its value. Likewise, everyone must be well acquainted with our own strengths and weaknesses. In reality, if you know about your strengths then you will be able to invest your energy. Moreover, if you can trace your weak points then they can be converted into strength. It makes it easy to work on projects where you can improve and utilize your entire strength.
10. Incompetency of Handling Conflicts
As a team member, you should know how to handle people and resolve conflicts. Not every battle is meant to be fought, so choose your battles wisely. Handling a conflict requires a stable mind. If anyone doesn't work to the best of their ability and brings a negative attitude to work, then as a responsible member you have to step up and talk to that person in private. Give them correct advice and guidelines to precede their work.
Conclusion
Finally, we can sum up with Carlton Fisk's words "It's not what you achieved, it's what you overcome". This quote defines the career in general. It means that every professional has to work continuously without pride for what he has achieved. He should inculcate ways and means to overcome the problems and expand his perspective to learn rather than remaining confined within their zone.
Mavenow app is one such platform built for professional seekers to move ahead overcoming the hurdles of the workplace. And you will get the best insights of the industry and knowledge from the expert industry leaders. The Mavenow app serves as the best online learning platform for professionals where they can get privilege to interact with Industry expert. So, download it and get the best results with a hike in your career.