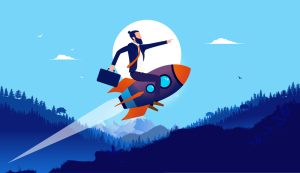 "One of the greatest values of mentors is the ability to see ahead what others can't see and help them to navigate a course to their destination" as quoted by John C. Maxwell.
Life is like a mixture of all the flavors, wherein one can encounter moments of happiness as well as sadness. Even on professional terms, everyone has their own journey. And every success story involves a supporter which gives us the right direction whenever we feel lost.
But have you ever thought about who their supporters are?  If not then you should. Those supporters are none other than Mentors. Yes, mentors. These mentors have the power to break glass ceilings and enable you to design your work performance in an organized way. Even mentors can help you to achieve success in a company and also help to grab better prospects in your life.
A successful career is a dream for all the professionals and it doesn't come served on the platter. One has to keep themselves upgraded with the skills as well as personality.  It is observed that due to lack of many competencies like soft skills, communications, etc. is the cause of failure of Professionals who are performing excellently at their jobs.
Mark Zuckerberg, co-founder and CEO of Meta, and Bill Gates co-founder of Microsoft Corporation have benefitted from insight and counsel from their mentors. So, mentors play a vital role in the success stories of many professionals. So let's know how mentors play a key role that enable you (mentee) to excel in your career ten times.
Mentor Taps Your Potential:
Brooke says, "Mentors help mentees put their goals in perspective and plan them according to their skill-set."
Mentors encourage you to set goals as short, medium, and long-term professional goals which adds confidence to reach your goals. Moreover, Mentors enable you (mentees) to tap your potential and suggest steps to achieve them. Additionally, they help you to identify your lacunae and work on them effectively so as to take a high leap!
The Mentor is a backbone of yours who traces out all possible networks for you so that your career gets wings of success. Mentors support you to introspect yourself which in turn helps to continue growing your career. And the guidance of your mentor enables you to develop both professionally and personally. This further empowers you to move forward where you want your career.
Mentor Sharpen Your Skills:
Your mentor will aid you to work on your skills so that you prosper in the competitive work environment. They will tap your potential and will give you insights of the industry. Your mentor will guide you to acquire the following skills in order to accomplish your goal. And they will assist you to define some goals and create a small set-up for you so that you may advance in your career.
Besides, mentors may give you objective advice if they happen to see that you aren't working according to your potential. Thus, a mentor boosts you empathetically to enable you to attain your goals.
Mentor Elevates Your Confidence and Problem-solving Capacities:
Confidence is key to initiating your life and career in the right direction. Mentor advice guides you to enhance your confidence which enables you to inculcate problem-solving skills. As per research, it is seen that holistically mentors try to escalate your emotional health.
And they recommend various perspectives which can be influential enough to change your thinking process of yours which  also helps mentee to regain their confidence. Thus, mentors serve as a sounding board for mentees to test ideas out.
Mentor Aids to Expand Your Network and Explore New Prospects:
Mentors are quite experienced and are instrumental to expand networking for you which enables you to be in connection with various resourceful people. It is just like bringing you near to resources where you can pluck opportunities of your choice and get promoted in your professional career. At times, mentors introduce you to the successful people in the industry that would not only boost up your confidence but also elevate you in your professional career.
Probably, you may not come in contact with this section but due to your mentor's good connections, you are capable of reaching out to them. This, in turn, helps you to come out of your comfort zone, develop your soft skills and meet new people and grab new opportunities. Moreover, coming in a range of contacts you can develop command of your language making use of it in a positive, specific, and declarative manner which enhances your professional standing.
Mentor Inculcates Leadership Qualities:
Mentorship enables you to inculcate soft skills such as listening, compassion, and giving and receiving feedback. These skills morally strengthen you to make correct decisions. And collectively these all qualities help to become a good leader. Once you develop your soft skills, necessary for a successful career then automatically you inherit a few of the following traits:
Self-awareness
Adaptability
Teamwork
Collaboration
Verbal communication.
Besides, it is also found that you will experience increased self-efficacy and the ability to seek support when needed because of the peer-to-peer mentoring they engaged in. From this, we can gather that the ability to lean on someone else for guidance, support, and to have one-on-one conversations with them will lead to the development of soft skills.
Mentor Develops Broader Perspective:
The experienced mentors share their perspectives with you which not only broaden your perception but also enable you to understand the point of view of different regional areas. In addition to it, mentors can help you while discussing your choices and dilemmas by thinking about the impact of potential actions.
Mentor Holds Your Hand and Takes You to Your Destination:
Other than solving problems, mentors provide crucial feedback and are able to offer insight for you on the basis of their experience. You will have Mentor's back whenever you need guidance or support and they will provide you instructions on how to do specific tasks or acquire useful skills. They can also share tips on how to overcome hurdles or challenges to career development. So whatever the problem or difficulty, you can always rely on the mentor to be your guiding light and lead you to the path of success.
Brooke asserts, "A good mentor is able to analyze and view the mentee's abilities and characteristics objectively." Thus these mentors are able to provide constructive feedback about your career, skills, and decision- making which all need improvement.
Conclusion:
Finally, we can say a robust network of mentors, counselors, sponsors, etc. is needed to grow both emotionally and personally. Being a mentee you have to be active enough to build relationships and seek those people out. You should share your goals and objectives. Be full of strategy and ask questions.
In addition to this, you can also get the assistance of Mavenow app which itself is an expert to connect you to mentors for entrepreneurship. They also run Mentoring Programs for Professionals for overall career & Individual growth and provide startup mentorship too and act as the best app for skill development and provide opportunities to professionals to get best jobs in India. So, in today's context, Mavenow app has ushered in as a technical mentor which has a capacity to resolve almost all types of problems.
So, let's go ahead with the Mavenow app and surround yourself with those who bring out the Best In you.